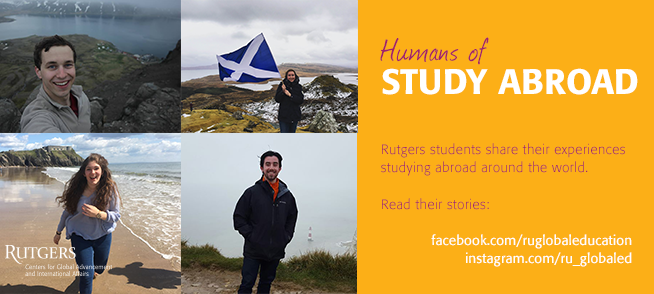 Get Started

Begin Your Journey



Applications Now Open
10/01/2017 Deadline:
Spring 2018

Applications are reviewed on a rolling basis for most programs. Some programs may have an earlier deadline.

Get Started today.

UPDATED Walk-in Advising Hours:
Mon - Fri from 12-3PM
102 College Avenue

Advising appointments can be scheduled by phone (848-932-7787) or email.

Contact a Global Ambassador here.

CGE Spotlight


Celebrating 50 Years of
Study Abroad at Rutgers Check out our brand new "50 Years" video featuring students from the 1960s to present day.

Scholarships

Congratulations to the five Summer 2016 and three Fall 2016 Gilman scholarship recipients! In total, Rutgers students received $13,500 in funding from Gilman for the summer. For questions about scholarship opportunities please schedule an advising appointment today.

2017 Scholarships Available The Center for Global Education is currently offering scholarships for Summer, Fall, and Academic Year 2017 study abroad programs.

Want to better understand how to pay for study abroad? Watch our Finance Workshop Video.
The Center for Global Education is a part of the university-wide
Centers for Global Advancement and International Affairs
(GAIA Centers). The GAIA Centers work toward developing a comprehensive, campus-wide set of international initiatives and services, initiating collaborative projects and strategic partnerships around the world, and expanding students' opportunities for international study and research.